Welcome to CatWallShelves.net!
If you're looking for a wall shelf for your beloved cat, you couldn't have come to a better place. We've identified the absolute best cat wall shelves (and other cat accessories) that money can buy. Please take a look at some of our reviews, tips, and cat climbing articles! I personally guarantee that we'll help you find the PUUURRRRRFECT cat climbing furniture and accessories for your precious feline!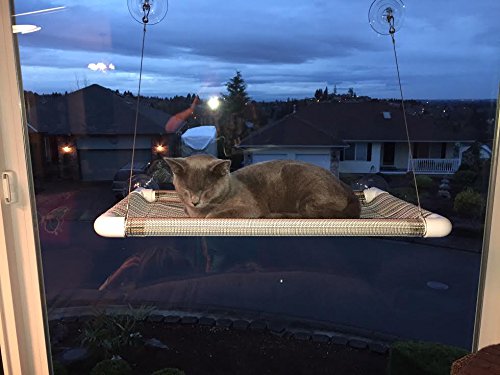 Lightning Fast Installation!
4 large, heavy duty suction cups. That's all the installation required — which is a huge sigh of relief for anyone not particularly adept with tools and wall stud installation. Simply attach them to your window and the Kitty Cot Cat Perch is ready for us for your feline. This is perhaps the simplest, most practical cat wall perch I've ever seen. It just works and requires no effort to set up!
Holds Big Cats, But Not Huge Cats
The frame is 24″ wide by 13.75″ deep. Majority of cats will be able to use the Kitty Cot cat wall perch without any issues and be completely comfortable. Weight limit for the kitty cot is 30lb; that's a BIG, cartman-size cat. However, for those of you with immense size cats, or more likely multiple cats who will not understand the "1 cat per cot" rule, lol, be warned that 30lbs is the limit.
Many customers report that 2 or more cats can share the cot safely and they have pictures to prove it. It's incredibly strong but it is advised to check the suction cups every now and again to ensure they are holding firm. There have been no reports of the suction cups failing so far — which is very good!
"I was a little unsure whether my 2 cats (1 yr olds) would like the Kitty Cot, but they do! They take naps in it, watch birds & squirrels and just lounge in the Kitty Cot throughout the day. Both cats fit in the Kitty Cot at the same time, but often only one is in there. The Kitty Cot was easy as pie to set up and it hasn't moved since the day I put it in the window. Highly recommended." ===> Click Me To Read More Customer Reviews Like This One.

Comfortable & Easy to Clean
Fabric is rugged enough not to have to worry about wear and tear over the years yet soft enough for total comfort. Can be cleaned quickly with soap and water. If extra comfort is wanted, the cot can easily be covered with your chosen fabric.
Closing The Curtains Is Not a Problem, Seriously
If you're like me, you've already thought it — Does Kitty Cot keep me from closing my curtains? The answer is no! Simply remove the 2 bottom suction cups and let the Kitty Cot hang until its ready to use again. Pretty simple. Your cat might not be happy you removed his/her perch, but sometimes the curtains just need to be shut, am I right?
Best Cat Perch Price!
If you're read the other reviews on different cat wall shelves, you've seen many of them for $100 or more. Yikes! Well, the Kitty Cot is just $40 with free shipping, which is awesome considering the quality!
They Really Do Love It!
Cats love climbing and hanging on just about anything, so it's no surprise they love the kitty cot. However, I think the fact that it hangs on a window and lets he/she see whats going on outside, that's what gives it that little extra something that pushes it beyond your typical cat perch. Nothing like lounging about with a great view!
==> See What Customers Are Saying About The Original Kitty Cot <==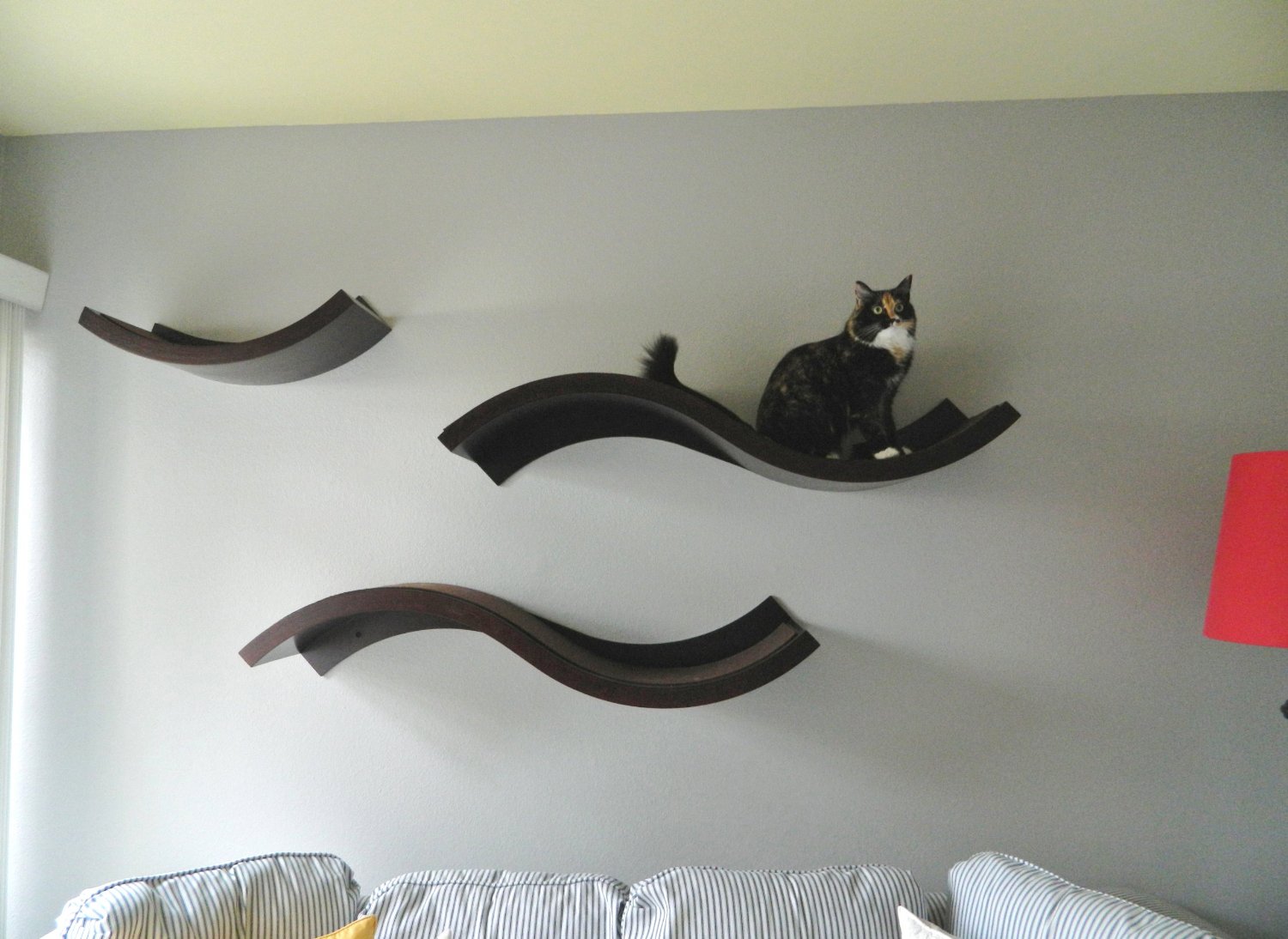 It's tough choosing the right climbing accessory for your beloved kitty. There are a lot of options, big price differences, and of course, different styles. While we can't choose for you, we can certainly give you our best recommendations on different wall mounted cat perches and cat wall shelves.
Today's review is on the Pet Haus Wave Wall Mounted Cat Perch, and so far I'm impressed by what I see.
Most Spacious Cat Wall Perch On The Market
There is not a larger, more luxurious cat wall shelf (or perch, whatever you want to call it) on the market. This thing is huge at 44 inches long and 10 inches wide — plenty of room for even the largest of felines. It's so large that 2 husky size cats could lay down and there would be plenty of room for both!
As always, I recommend taking a close look at the pictures to get an idea of the size.
Structurally Sound and Super Safe
This wall mounted cat perch is solid, and I do mean SOLID. Once installed, this thing doesn't budge. It has a 70+ lb weight limit, so there is not risk of collapse so long as it's installed properly. Like all cat wall shelves and wall perches, it will need to be installed into wall studs. Trying to hang this from dry wall only, with a cat pouncing on it every day, is a recipe for disaster!
It Looks Like Art!
A reviewer said that the Refined Feline Cat Cloud looked like a piece of art on their wall. While every one is entitled to their opinion, I have to say that the Pet Haus Wave Mounted Cat Perch looks WAY more like art work than the cat cloud.
Take a look at the picture above, it does look like art, doesn't it? It certainly doesn't hurt to have a nice looking cat perch as opposed to some gaudy monstrosity.
It's made of zebra wood with real wood veneer and it's extremely stylish. In fact, I think this cat wall perch actually beats the cat cloud in style points. Don't know if that's particularly important to you, but it is to me. Who wants a giant eyesore hanging on their wall, am I right?
Felt Can Be Replaced!
The Feline Cat Cloud wins in this department. While the felt padded top can be replaced, it has to be ordered from the manufacturer and it's not a 1-2-3 process. It can be done but a few minutes of your time, but it's not as easily as sliding off a magnetic pad like with the Feline Cat Cloud.
On the upside, the padded felt top of this cat wall perch is not easily worn out. It's very dependable and I don't see the need of having to replace the felt top for years — unless you're running some sort of cat hotel and hundreds of cats use it every day or something. Other than that, it's a pretty small concern and you shouldn't worry about it.
It's Exceptional… For An Exceptional Price
I am thoroughly impressed with the Pet Haus Wave Mounted Cat Perch in every way except one…. price.
As of writing this review, this cat wall perch is at a eye brow raising $142. That's quite high at first glance. Not astronomical, but enough to raise an eyebrow. And contrary to what the picture shows, you only get 1 of them. You don't get all 3 cat wall shelves, just 1 for $142.
Is this price too high for a wall mounted cat perch? My initial gut reaction is, of course, YES!
However, it only takes a few minutes of searching to realize that competition is not miles away in pricing. There are shoddy products that cost a few bucks and won't last (and look terrible) and there's quality that costs more and WILL last, for years even. The ones that last are around this $100 price range.
So, while the price is a drawback of the Pet Haus Wave Mounted Cat Perch, it's not exceedingly high compared to other cat wall shelves in the market. In fact, the Feline Cat Cloud is $100, so it's not a huge leap away to be perfectly honest.
Final Thoughts
If you can get past the price, the Pet Haus Wave Mounted Cat Perch is an outstanding cat climbing accessory that I believe your cat will absolutely love. And when you see how much time they spend on it, I promise you won't give the money spent on it a second thought.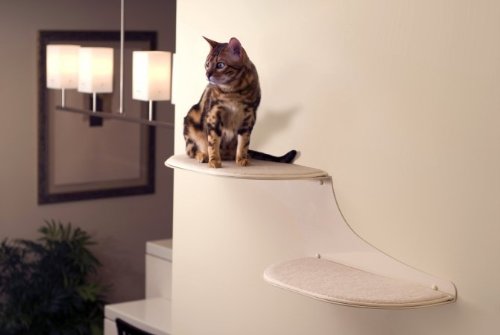 Scroll Down To Skip My Review & See Scoring Instead
Stylish cat wall shelves seem to be the latest innovation in pet furniture. But as they are relatively new, there is also quite a bit of confusion around them.
Cat owners obviously want to get the best of the best of everything for their beloved felines, but as they may not know much about cat wall shelves, the decision to choose the right one can be rather challenging to say the least. Here at CatWallShelves.net, we hope to make this endeavor much easier for you.
Today, we are reviewing the Refined Feline Cat Cloud, which is believed to be one of the best cat wall shelves on the market. If you believe in getting good value for your money (don't we all?), as well as in avoiding most of the hassle associated with dealing with a shoddy cat shelf, the Cat Cloud is definitely one of the wall shelves you should consider.
Spacious Platforms
Each platform is 20″ x 10″ each; totaling 38″ width. Fairly large and plenty of room for a cat to sit and relax and just hang out being a cat. Now, if the question is if there's enough room for your cat to lay down and roll around during a cat nap, well, that's entirely up to cat size.
Most cats will be completely comfortable, however, extra large cats may not be able to relax as comfortable. Images can be deceiving, so I advise you to watch the video to see 2 different size cats make use of the cat clouds. You'll one one engulf the entire platform as it lays down and the other has plenty of room.
Unless you have a particularly large cat, it won't be a problem in the slightest. But it is something I thought worth mentioning for those of us with chunky monkey felines, lol.
Satisfyingly Sturdy
Supports 70 pounds of cat. Unless your cat feasts on other cats or is pumping irons in between his climbing activities, there is little worry of breaking this barrier.
The platforms are built using a super strong metal, making them considerably sturdier and far more durable than most of their counterparts. So long as it's installed properly — generally into wall studs — there's virtually zero risk of the shelves coming down.
Awesome Magnetic Pads
This is a real innovation the Refined Feline Cat Cloud has been able to come up with. The pads the platform comes with have a magnetic bottom, making them easily replaceable when they get worn out or too dirty.
This may not seem to be very impressive at first glance, but it most certainly is important when you factor in general wear and tear & possible stains. You don't want to have to remove the cat wall shelf from the wall because it looks raggedy and unclean, do you? No, you want to be able to clean it in a flash, and removable magnetic pads make that possible.
An incredibly undervalued feature of cat wall shelves!
They Really Do Look Great On Your Walls!
Nothing worse than a horrendous looking "tumor" on your wall. Sure, the cat is happy with his/her new climbing zone, but it's a gigantic eye sore for everyone else.
Well, not with the Refined Feline Cat Could!
These cat wall shelves will look quite attractive on your walls. In fact, one of the buyers who bought these mentioned in their review that these cat shelves actually eliminated the need of artwork. Not sure I'd go that far, but I certainly see where they are coming from — they just look really good and natural.
My Final Word
$100 (free shipping) for cat wall shelves is, I won't lie, a bit on the pricey side. However, and this is really the crucial part, I have yet to find any reliable, sturdy, comfortable, or non-eye-sore-ish cat wall shelves for less than $100.
The cat shelves market isn't as robust as other pet furniture, so this could be why the price seems high.
All in all, the refined cat cloud is one of the absolute best cat wall shelves on the market, and I fully recommend. I believe you'll be plenty happy with it. The $100 cost may sting ya at first as it did me, lol, but it will last for years and provide your cat with an awesome climbing area he/she so desperately desires!
Customer Reviews For The Refined Feline Cat Cloud