If you're looking for a wall shelf for your beloved cat, you couldn't have come to a better place. We've identified the absolute best cat wall shelves (and other cat accessories) that money can buy. Please take a look at some of our reviews, tips, and cat climbing articles! I personally guarantee that we'll help you find the PUUURRRRRFECT cat climbing furniture and accessories for your precious feline!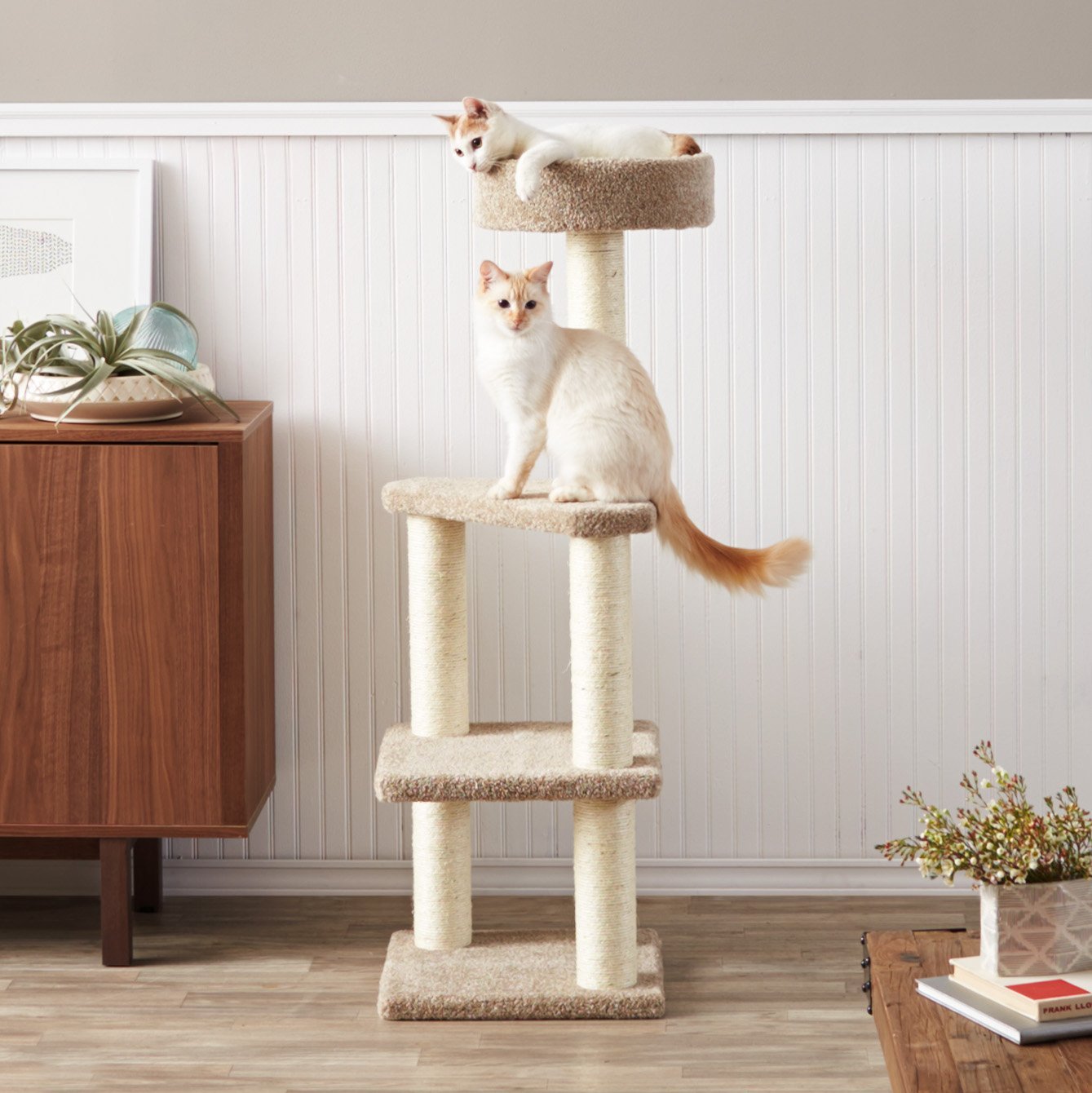 The AmazonBasics Cat Tree With Scratching Posts stands at about 4 feet, has 3 platforms, which includes a neat bowl bed at the top for your cat to take his/her cat naps, and is made primarily of sisal rope (for the posts) and carpeting for the platforms.
As far as style goes, I have to say this cat tree with scratching posts is exceptionally bland. That's not to say it's bad, but it's very boring to look at. The best way I can describe it is "it looks like something that belongs in a bathroom". I can't describe this what this feeling really means, that's just what I feel when I look at it; lol.
Assembly
Like most large cat furniture, assembly is dummy proof. Few pieces which screw together with minimal effort. Nothing complicated. No tools needed. Couldn't be any simpler.
Materials and Durability
As mentioned, it's made primary of sisal rope and fiberboard. The platforms are covered with carpeting which is plenty of comfort for your exploring felines. It's surprisingly sturdy and can accommodate some hefty kitties, so no worry there. While it can hold multiple cats, it's not as spacious as other large cat furniture I've reviewed — so I don't expect it to be a big hangout zone.
"Love it! We assembled this cat tree in just a few minutes, and introduced it to our three cats. The old lady of the bunch immediately claimed it as her own and perches on it regularly. The cat tree is carpeted so they all enjoy stretching their claws on this cat tree." – SH Wells. Click Here To See More Reviews

Price
It comes in 3 types, small, medium, and large. I'm reviewing the large, which is $37.77, at the time of this review. This is a fairly good price for what is offered; a simple 3-tier cat tree with scratching posts. It is a bit bland, but it serves the purpose, and for under $40; I can say it's a pretty good deal.
My Final Impressions
I probably wouldn't buy this as standalone cat furniture; but that's just me. It's a bit too plain for my tastes and too small, if I'm being completely honest. I like bigger cat trees with more platforms and a better style. However, I do see this as being a perfectly suited stepping stool to any cat wall shelves that you've installed in your cat's playroom.
It's an aspect of cat wall shelf installation that many cat owners ignore; getting the right piece of furniture so your cat can access the wall shelves with ease. The AmazonBasics Cat Tree With Scratching Posts is perfect for that job; especially if you're budget doesn't yet allow for a Go Pet Club Cat Tree.