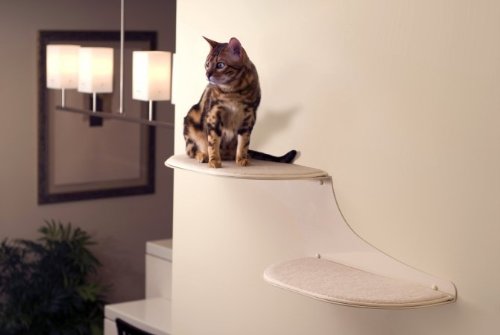 Scroll Down To Skip My Review & See Scoring Instead
Stylish cat wall shelves seem to be the latest innovation in pet furniture. But as they are relatively new, there is also quite a bit of confusion around them.
Cat owners obviously want to get the best of the best of everything for their beloved felines, but as they may not know much about cat wall shelves, the decision to choose the right one can be rather challenging to say the least. Here at CatWallShelves.net, we hope to make this endeavor much easier for you.
Today, we are reviewing the Refined Feline Cat Cloud, which is believed to be one of the best cat wall shelves on the market. If you believe in getting good value for your money (don't we all?), as well as in avoiding most of the hassle associated with dealing with a shoddy cat shelf, the Cat Cloud is definitely one of the wall shelves you should consider.
Spacious Platforms
Each platform is 20″ x 10″ each; totaling 38″ width. Fairly large and plenty of room for a cat to sit and relax and just hang out being a cat. Now, if the question is if there's enough room for your cat to lay down and roll around during a cat nap, well, that's entirely up to cat size.
Most cats will be completely comfortable, however, extra large cats may not be able to relax as comfortable. Images can be deceiving, so I advise you to watch the video to see 2 different size cats make use of the cat clouds. You'll one one engulf the entire platform as it lays down and the other has plenty of room.
Unless you have a particularly large cat, it won't be a problem in the slightest. But it is something I thought worth mentioning for those of us with chunky monkey felines, lol.
Satisfyingly Sturdy
Supports 70 pounds of cat. Unless your cat feasts on other cats or is pumping irons in between his climbing activities, there is little worry of breaking this barrier.
The platforms are built using a super strong metal, making them considerably sturdier and far more durable than most of their counterparts. So long as it's installed properly — generally into wall studs — there's virtually zero risk of the shelves coming down.
Awesome Magnetic Pads
This is a real innovation the Refined Feline Cat Cloud has been able to come up with. The pads the platform comes with have a magnetic bottom, making them easily replaceable when they get worn out or too dirty.
This may not seem to be very impressive at first glance, but it most certainly is important when you factor in general wear and tear & possible stains. You don't want to have to remove the cat wall shelf from the wall because it looks raggedy and unclean, do you? No, you want to be able to clean it in a flash, and removable magnetic pads make that possible.
An incredibly undervalued feature of cat wall shelves!
They Really Do Look Great On Your Walls!
Nothing worse than a horrendous looking "tumor" on your wall. Sure, the cat is happy with his/her new climbing zone, but it's a gigantic eye sore for everyone else.
Well, not with the Refined Feline Cat Could!
These cat wall shelves will look quite attractive on your walls. In fact, one of the buyers who bought these mentioned in their review that these cat shelves actually eliminated the need of artwork. Not sure I'd go that far, but I certainly see where they are coming from — they just look really good and natural.
My Final Word
$100 (free shipping) for cat wall shelves is, I won't lie, a bit on the pricey side. However, and this is really the crucial part, I have yet to find any reliable, sturdy, comfortable, or non-eye-sore-ish cat wall shelves for less than $100.
The cat shelves market isn't as robust as other pet furniture, so this could be why the price seems high.
All in all, the refined cat cloud is one of the absolute best cat wall shelves on the market, and I fully recommend. I believe you'll be plenty happy with it. The $100 cost may sting ya at first as it did me, lol, but it will last for years and provide your cat with an awesome climbing area he/she so desperately desires!
Customer Reviews For The Refined Feline Cat Cloud
The Refined Feline Cat Cloud
$99.99
The Good
Supports Hefty Cats. 70lb Weight Limit. That's a Big Cat!
2 Spacious Platforms. 20 inchs by 10 inches Each. Width 38 inchs Total. Left Facing.
Steel Construction, Heavy Duty Shelves. Wall Anchors Included!
Padded With Sheep Skin Fabric. Nice and Soft!
Magnetic Bottom, Super Easy to Replace After Heavy Wear & Tear.
The Not So Good
It's $100 For a Cat Shelf. A Bit High, But I Have Yet To Find Cheaper Alternative Of the Same Quality Level As the Cat Cloud.
Heavy and Requires Installation Into Wall Studs.
Heavy Enough That It May Require Help To Install. You've Been Warned.