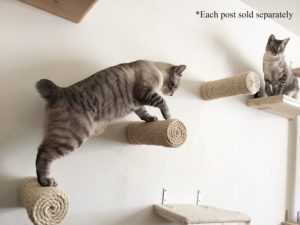 I've always said the market for cat wall shelves was thin. A bit too thin for cat owners always on the lookout for new toys for our beloved felines. That said, whenever I come across a new cat wall shelf or post, I don't hesitate to write a new review! Today's candidate is the CatastrophiCreations Handcrafted Cat Wall Post! Let's begin.
Style
Right off the bat, you see this post is not nearly as stylish as the other cat wall shelves I've reviewed. Some might call it downright ugly. It's a fair critique because it essentially is just a yarn/rope stick jutting out of your wall. Depending on the room it's in, it may be more than a little noticeable; perhaps even out of place.
Of course, this isn't a huge factor if your cat has his/her own room and this is just one more addition to their feline play land. While the Feline Cat Cloud or Pet Haus Wave Wall Perch can be placed in the living room and common areas, this sticks out like a sore, rope-covered thumb.
"I can't even imagine my cats without this now! They were always all over my furniture and now they have their own. They are like little circus cats now! Installation was not very hard and is incredibly sturdy, I think I could hang on it. I put off buying the typical cat towers because they are so ugly and don't think they needed it. I might be a crazy cat person but I swear they seem happy!" – Ian. Click Here to See More Reviews

Installation
Each post is 11″ long and 4″ wide.
Super easy and carefree. Comes with the necessary screws.
The only cat wall perch that is easier to install would have to be the Kitty Cot.
Find a stud. Install the cat wall post on the stud. Your new handcrafted cat wall shelf is ready to be used all day, every day.
Durability & Toughness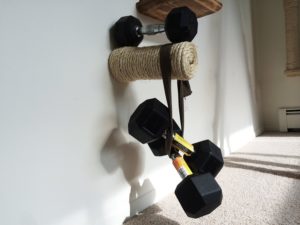 This thing can hold some serious weight. The makers say 62lbs is within it's limits when properly installed. That's crazy heavy. So no worries about it coming off the wall or your cat getting injured. He or she will be able to leap from post to post without the slightest budge.
Aside from that, the material itself is excellent for the cat to grip and climb. It's got that "scratching post feel" that they'll have no trouble latching on to.
Price
$45, for one!
If you're making a funny face at that number, you're not alone. I made a "wtf" face as well.
We all know you pay for quality and I can't argue that this isn't a quality cat wall shelf (it's handcrafted too!). My only problem is — and it's more a mental thing than anything else really — it's just a rope post that attaches to a wall stud, and it costs $45.
It's….a…. rope….. post. For $45. I'm not suggesting it's a bad deal, it's just a bit high in my opinion — but that is just my opinion of course.
The Last Word
The CatastrophiCreations Floating Handcrafted Cat Shelf would make an excellent addition to any cat climbing zone or playground you've already created in your home — if you can stomach paying the $45 per post price.
However, if this is your very first cat wall post or shelf, then I might not start with this one to be honest. This is because you'll need 2 or 3 posts to create any sort of viable climbing environment for your cat… 2 of these cat wall posts alone adds up to $90, and that's roughly the price of the very popular Refined Feline Cat Cloud; perhaps the best cat wall shelf on the market!
As always, it's up to you to make the decision. I can only give you my opinion, a few facts, and hope it makes your decision easier! Good luck!
CatastrophiCreations One Floating Sisal Cat Post Step
The Good
Extremely Durable and Tough
Installation Is Super Easy
Excellent Climbing Material
Fat Cat Approved! (62lb Weight Limit!)
Natural Sisal Rope
The Not So Good
$45 For One? Yikes!
Not Too Pretty To Look At.