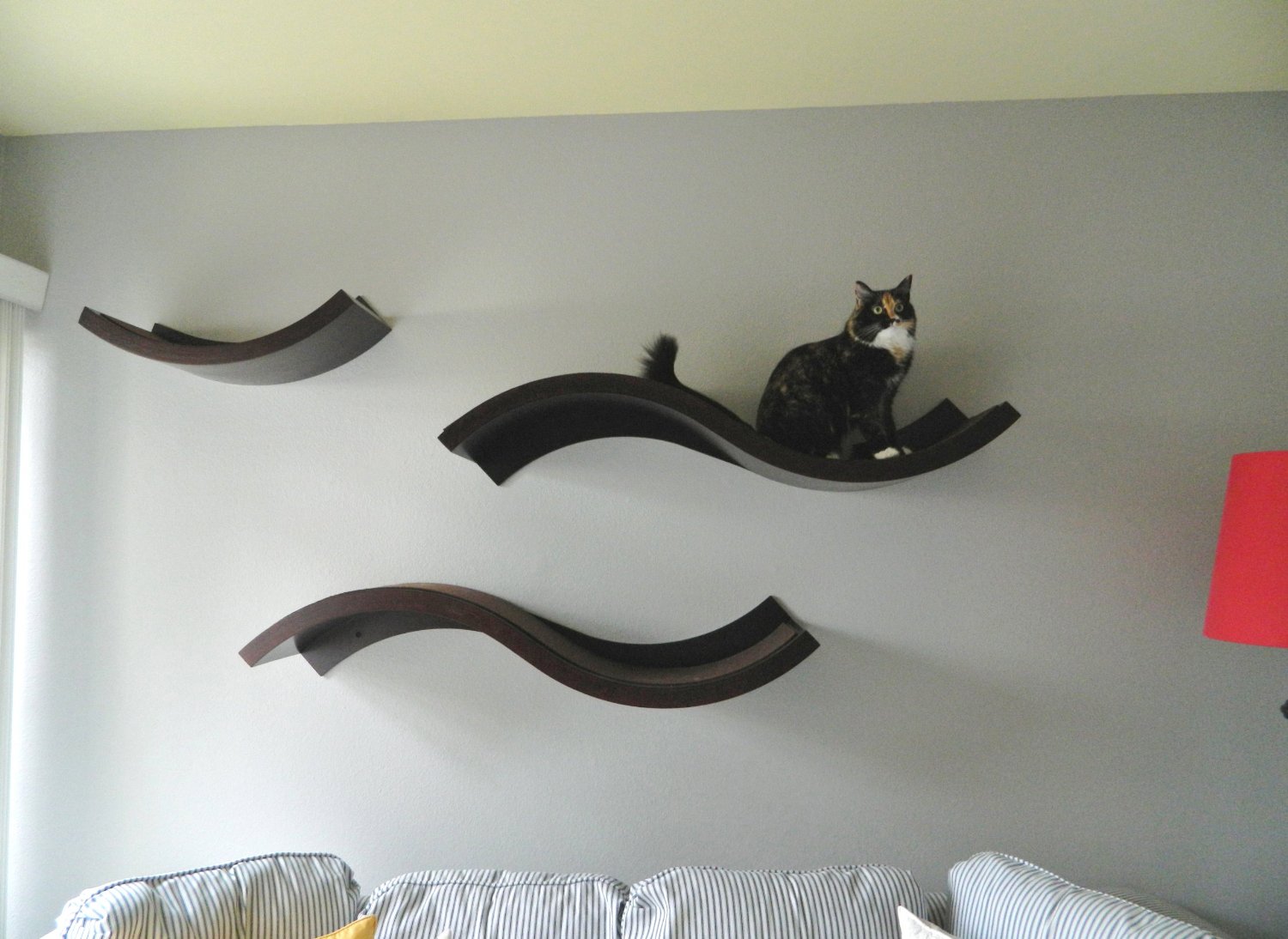 It's tough choosing the right climbing accessory for your beloved kitty. There are a lot of options, big price differences, and of course, different styles. While we can't choose for you, we can certainly give you our best recommendations on different wall mounted cat perches and cat wall shelves.
Today's review is on the Pet Haus Wave Wall Mounted Cat Perch, and so far I'm impressed by what I see.
Most Spacious Cat Wall Perch On The Market
There is not a larger, more luxurious cat wall shelf (or perch, whatever you want to call it) on the market. This thing is huge at 44 inches long and 10 inches wide — plenty of room for even the largest of felines. It's so large that 2 husky size cats could lay down and there would be plenty of room for both!
As always, I recommend taking a close look at the pictures to get an idea of the size.
Structurally Sound and Super Safe
This wall mounted cat perch is solid, and I do mean SOLID. Once installed, this thing doesn't budge. It has a 70+ lb weight limit, so there is not risk of collapse so long as it's installed properly. Like all cat wall shelves and wall perches, it will need to be installed into wall studs. Trying to hang this from dry wall only, with a cat pouncing on it every day, is a recipe for disaster!
It Looks Like Art!
A reviewer said that the Refined Feline Cat Cloud looked like a piece of art on their wall. While every one is entitled to their opinion, I have to say that the Pet Haus Wave Mounted Cat Perch looks WAY more like art work than the cat cloud.
Take a look at the picture above, it does look like art, doesn't it? It certainly doesn't hurt to have a nice looking cat perch as opposed to some gaudy monstrosity.
It's made of zebra wood with real wood veneer and it's extremely stylish. In fact, I think this cat wall perch actually beats the cat cloud in style points. Don't know if that's particularly important to you, but it is to me. Who wants a giant eyesore hanging on their wall, am I right?
"I purchased one large & two small for my living room. My cats love the the shelves. I have received so many compliments from friends & family. Most of my guests think it's modern art." Read More Reviews Like This

Felt Can Be Replaced!
The Feline Cat Cloud wins in this department. While the felt padded top can be replaced, it has to be ordered from the manufacturer and it's not a 1-2-3 process. It can be done but a few minutes of your time, but it's not as easily as sliding off a magnetic pad like with the Feline Cat Cloud.
On the upside, the padded felt top of this cat wall perch is not easily worn out. It's very dependable and I don't see the need of having to replace the felt top for years — unless you're running some sort of cat hotel and hundreds of cats use it every day or something. Other than that, it's a pretty small concern and you shouldn't worry about it.
It's Exceptional… For An Exceptional Price
I am thoroughly impressed with the Pet Haus Wave Mounted Cat Perch in every way except one…. price.
As of writing this review, this cat wall perch is at a eye brow raising $142. That's quite high at first glance. Not astronomical, but enough to raise an eyebrow. And contrary to what the picture shows, you only get 1 of them. You don't get all 3 cat wall shelves, just 1 for $142.
Is this price too high for a wall mounted cat perch? My initial gut reaction is, of course, YES!
However, it only takes a few minutes of searching to realize that competition is not miles away in pricing. There are shoddy products that cost a few bucks and won't last (and look terrible) and there's quality that costs more and WILL last, for years even. The ones that last are around this $100 price range.
So, while the price is a drawback of the Pet Haus Wave Mounted Cat Perch, it's not exceedingly high compared to other cat wall shelves in the market. In fact, the Feline Cat Cloud is $100, so it's not a huge leap away to be perfectly honest.
Final Thoughts
If you can get past the price, the Pet Haus Wave Mounted Cat Perch is an outstanding cat climbing accessory that I believe your cat will absolutely love. And when you see how much time they spend on it, I promise you won't give the money spent on it a second thought.
Pet Haus Wave Wall Mounted Cat Perch
141.92
The Good
Very Stylish. Real Wood Veneer. Zebra Wood.
44 Inch Long. 10 inch Wide. 8 Inch High
Padded Top For Optimal Comfort
Easy Installation.
Very Spacious. Lots of Room For Cats of All Sizes!
The Not So Good
Price. $140+ Is Pretty High For a Single Cat Wall Perch.
Nothing Else I Could See.