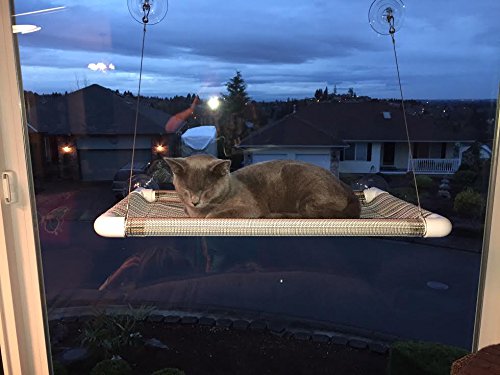 Lightning Fast Installation!
4 large, heavy duty suction cups. That's all the installation required — which is a huge sigh of relief for anyone not particularly adept with tools and wall stud installation. Simply attach them to your window and the Kitty Cot Cat Perch is ready for us for your feline. This is perhaps the simplest, most practical cat wall perch I've ever seen. It just works and requires no effort to set up!
Holds Big Cats, But Not Huge Cats
The frame is 24″ wide by 13.75″ deep. Majority of cats will be able to use the Kitty Cot cat wall perch without any issues and be completely comfortable. Weight limit for the kitty cot is 30lb; that's a BIG, cartman-size cat. However, for those of you with immense size cats, or more likely multiple cats who will not understand the "1 cat per cot" rule, lol, be warned that 30lbs is the limit.
Many customers report that 2 or more cats can share the cot safely and they have pictures to prove it. It's incredibly strong but it is advised to check the suction cups every now and again to ensure they are holding firm. There have been no reports of the suction cups failing so far — which is very good!
"I was a little unsure whether my 2 cats (1 yr olds) would like the Kitty Cot, but they do! They take naps in it, watch birds & squirrels and just lounge in the Kitty Cot throughout the day. Both cats fit in the Kitty Cot at the same time, but often only one is in there. The Kitty Cot was easy as pie to set up and it hasn't moved since the day I put it in the window. Highly recommended." ===> Click Me To Read More Customer Reviews Like This One.

Comfortable & Easy to Clean
Fabric is rugged enough not to have to worry about wear and tear over the years yet soft enough for total comfort. Can be cleaned quickly with soap and water. If extra comfort is wanted, the cot can easily be covered with your chosen fabric.
Closing The Curtains Is Not a Problem, Seriously
If you're like me, you've already thought it — Does Kitty Cot keep me from closing my curtains? The answer is no! Simply remove the 2 bottom suction cups and let the Kitty Cot hang until its ready to use again. Pretty simple. Your cat might not be happy you removed his/her perch, but sometimes the curtains just need to be shut, am I right?
Best Cat Perch Price!
If you're read the other reviews on different cat wall shelves, you've seen many of them for $100 or more. Yikes! Well, the Kitty Cot is just $40 with free shipping, which is awesome considering the quality!
They Really Do Love It!
Cats love climbing and hanging on just about anything, so it's no surprise they love the kitty cot. However, I think the fact that it hangs on a window and lets he/she see whats going on outside, that's what gives it that little extra something that pushes it beyond your typical cat perch. Nothing like lounging about with a great view!
==> See What Customers Are Saying About The Original Kitty Cot <==
The Good
No Tool Installation! Easily Mounts to Windows With SUPER Suction Cups.
Made With Incredibly Tough PVC Pipe and Fittings
Great Rugged Fabric Yet Still Comfortable.
Strong Stainless Steel Cables Last Forever
Humane Society Approved!
The Not So Good
Low Weight Limit, 30lbs. Fat Cat Discrimination!
Low Weight Limit, 30lbs. Multiple Cat Owners!
Window Blinds Must Be Removed.
Curtains Can Be Used With Lower Suction Cup Removal